Outdoor Poncho Size Guide
​
| | | | |
| --- | --- | --- | --- |
|   | XS/S | S/M | L/XL |
| a) chest*: | 29 inch | 73.3 cm | 33inch | 83.8cm | 33 inch | 83.8 cm |
| b) bottom width: | 29 inch | 73.3cm | 33 inch | 83.8 cm | 33 inch | 83.8 cm |
| c) front length: | 34 inch | 86.4cm | 38 inch | 96.5 cm | 43 inch | 109.2 cm |
| d) back length: | 37 inch | 94 cm | 41 inch | 104.1 cm | 48 inch | 121.9 |
| e) armhole: | 14.5 inch | 36.8 cm | 15 inch | 38.1 cm | 15 inch | 38.1 cm |
| f) sleeve length: | 8 inch | 20.3 cm | 8 inch | 20.3 cm | 8 inch | 20.3 cm |
| g) cuff: | 13 inch | 33 cm | 14.25 inch | 36.2 cm | 14.25 inch | 36.2 cm |
| h) hood: | 14 inch | 35.6 cm | 15 inch | 38.1 cm | 15 inch | 38.1 cm |
*
Chest measurement is from one side to other, not the circumference of your body.
We are excited to announce the first ever JOLYN x VOITED collaboration. JOLYN has released three products in their key categories, which are available for fans in the United States. A Travel Blanket, a surf inspired Poncho and a Change Robe are featured in this collab collection.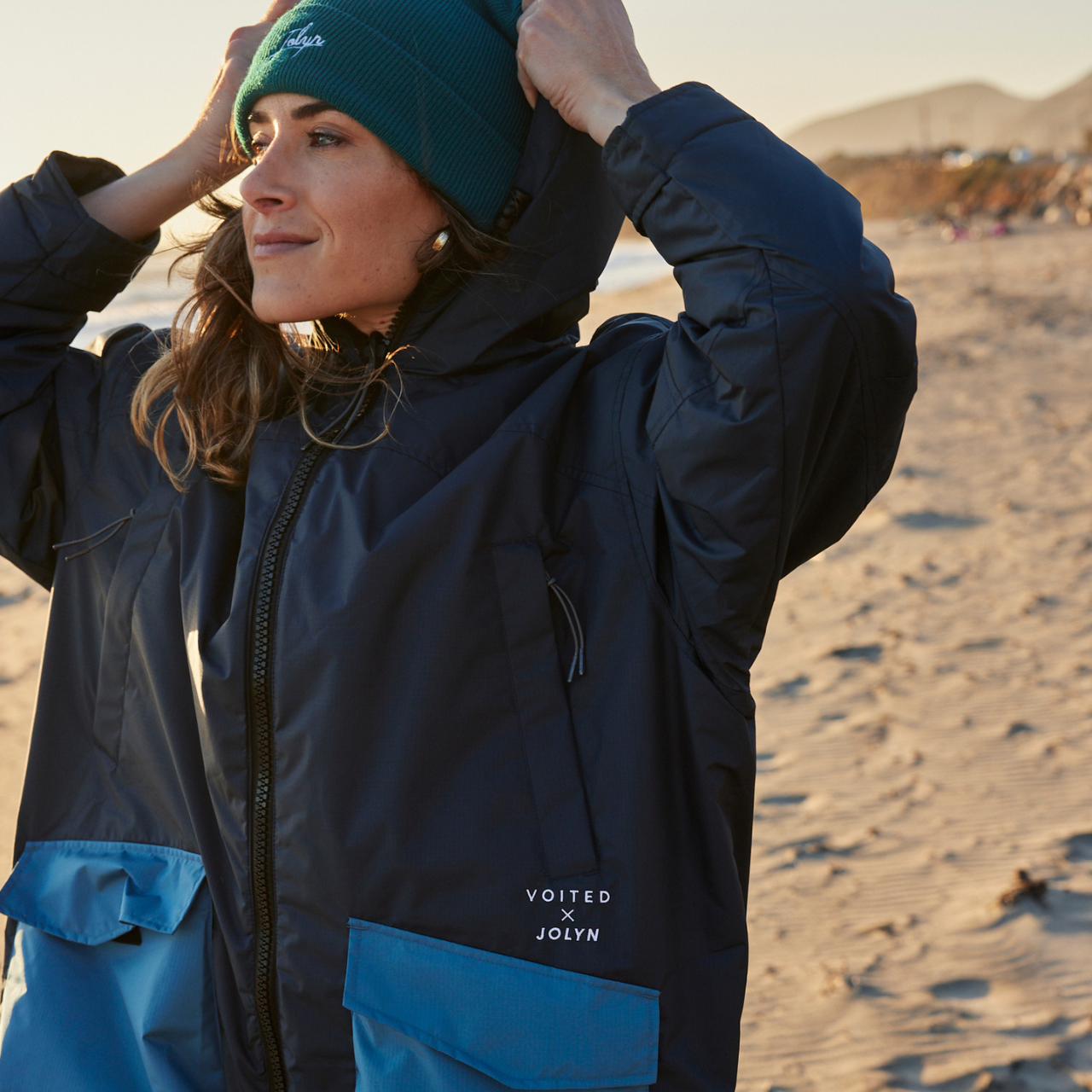 ABOUT JOLYN
Over a decade ago, JOLYN reinvented women's competitive swimwear, making it better fitting, more durable and as unique as the women that inspired JOLYN's design team. With a heritage of designing high-performance swimwear for world class athletes, JOLYN makes a range of swimwear that fits comfortably, stays put and is made to last. 
JOLYN x VOITED Change Robe
Every swimmer and surfer knows the importance of a good parka. We teamed up with VOITED to provide the best quality parka for any activity. Check out the surf, change outdoors without flashing the car park, or just stay cozy after swim practice. This parka, made from 100% recycled materials, will keep you warm while you do the things that make you happiest.
We hope you're just as excited as we are for the JOLYN x VOITED collab.
JOLYN X VOITED Surf Poncho
This JOLYN x VOITED surf inspired poncho will keep you warm during dawn patrol and after a sunset surf sesh. Made with 100% recycled 50D Repreve® Ripstop fabric, a waterproof exterior and a soft towel-like interior. The poncho also packs small into its pouch for easy storage or for use as a pillow. The best part - these ponchos are made from recycled plastic bottles. Use it after surfing for a graceful wetsuit change or dry off after swim practice. Drying off and staying warm never looked so good.
JOLYN x VOITED Travel Blanket
Travel everywhere with this amazing, sustainable, lightweight, packable, insulated and water-resistant travel blanket, for a perfect day at the beach, spending time on the mountain, or evening at the campsite. Stay cozy with VOITED's three-layer 3D featherlight fiber insulation. These blankets are made from 100% recycled materials, have a lightweight, down-like warmth and are easy to care for with machine washing. The blanket can be snapped into a hands-free cape with a hood, while the inner pocket is great for storing your phone and small valuables. It can be stored in its own compression sack or turned into a pillow by packing it into the integrated pouch. Keep in your car for whenever you need a little extra warmth. This ultra soft travel blanket will keep you warm and go on every outdoor adventure with you!