Returns & Exchanges
Our Returns Policy
We want you to love everything you purchase from VOITED and we stand by every item we make. If you purchased a product directly from our site and aren't satisfied for any reason, simply return it to us unused within 30 days and we'll issue you a refund for the product.
Purchases made from 24 November to 25 December can be returned until 31st of January 2023.
Free US Returns
We offer a free returns service in the US via Shippo. To return an item, please follow these steps:
Step 1: Submit your return request
Click the link and follow the steps to submit your return request. You'll need your order number and an email address. We'll send you an email confirmation to confirm that we've received your request. 
Step 2: Print your label
Once we've approved your return, we'll send you an email confirmation with a link to download your free shipping label.
Download your label, then open the file and print. Next, cut out the shipping label along the dotted lines and attach it to your parcel so it covers the barcode of the original label.
Please ensure you return your items in the condition that they were sold, with all the original tags and labels.
Didn't receive your label? Please check your spam folder. If you still can't find it, please contact customercare@voited.com and we'll send you a new one.
Step 3: Take your parcel to your nearest post office
Your return will need to be dropped off at your closest post office.
Please keep your proof of posting receipt until we have acknowledged receipt of your items.
Once your return is received and checked you'll get an email notification informing you that we've processed your refund. Depending on your payment method the refund will be completed within 10 business days. Your refund will be credited back to the original payment method (Credit Card, PayPal, Apple Pay, Google Pay or Gift Card).
---
Exchanges
It is possible to exchange your item for an item of equal or lower value:
Please follow all the above steps and choose "exchange" in Step 1 "SUBMIT YOUR RETURN REQUEST".
Please include details of the item you would like to change to and the size you would like (if relevant) in the comment field.
It is possible the item you would like to change to may not be available at the time we process your exchange request. In this instance a member of our customer care team will be in contact to see if you would like an alternative or a refund.
If the item you would like to change to is a lower price than the price of the original item a part refund will be made.
---
International orders
We apologise but we are unable to process returns and exchanges for orders outside the US. If you have received a defective or incorrect item, please contact customercare@voited.com.
---
Customer Service
Do you need assistance?
Customer Service is here to help. You can email us at customercare@voited.com.
We are excited to announce the first ever JOLYN x VOITED collaboration. JOLYN has released three products in their key categories, which are available for fans in the United States. A Travel Blanket, a surf inspired Poncho and a Change Robe are featured in this collab collection.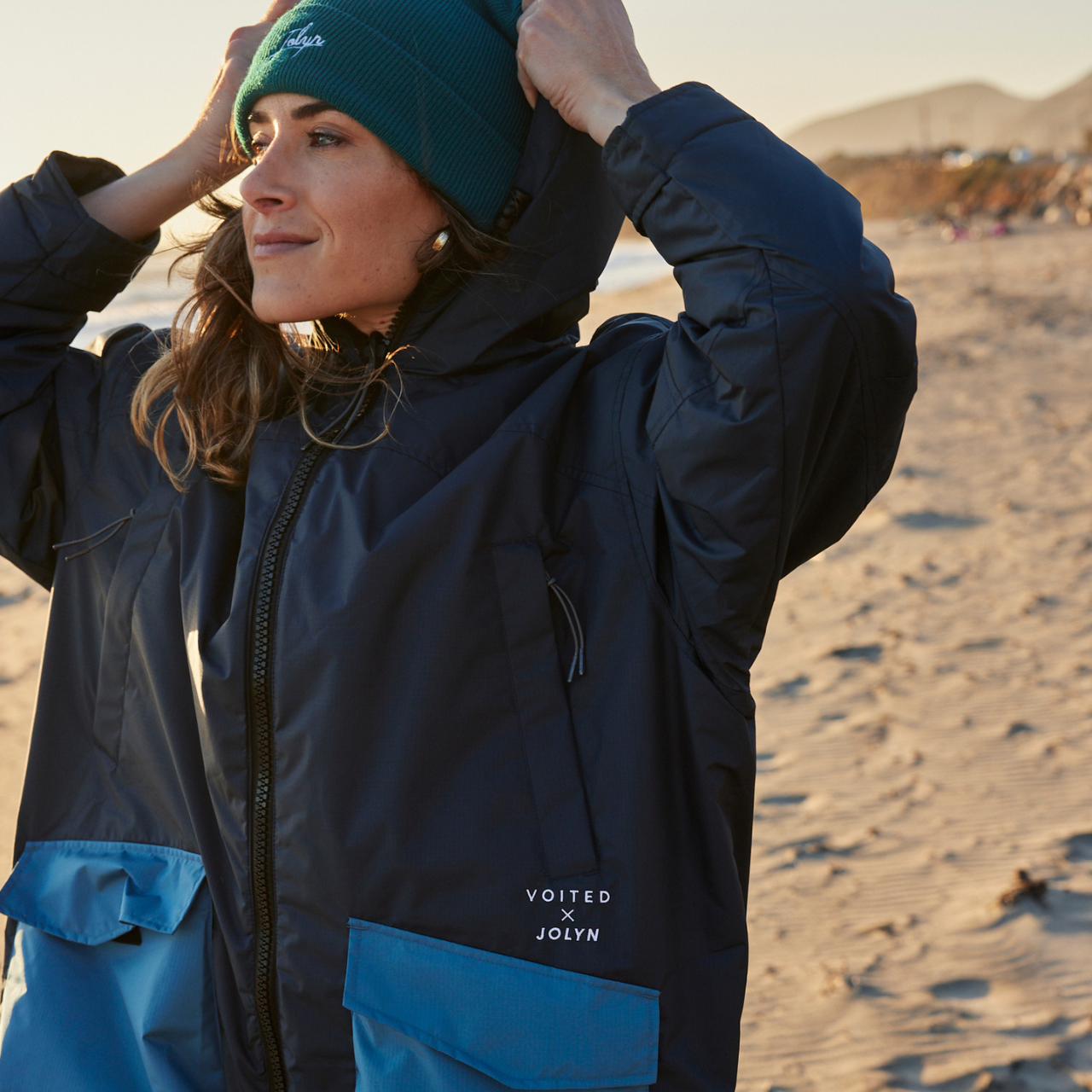 ABOUT JOLYN
Over a decade ago, JOLYN reinvented women's competitive swimwear, making it better fitting, more durable and as unique as the women that inspired JOLYN's design team. With a heritage of designing high-performance swimwear for world class athletes, JOLYN makes a range of swimwear that fits comfortably, stays put and is made to last. 
JOLYN x VOITED Change Robe
Every swimmer and surfer knows the importance of a good parka. We teamed up with VOITED to provide the best quality parka for any activity. Check out the surf, change outdoors without flashing the car park, or just stay cozy after swim practice. This parka, made from 100% recycled materials, will keep you warm while you do the things that make you happiest.
We hope you're just as excited as we are for the JOLYN x VOITED collab.
JOLYN X VOITED Surf Poncho
This JOLYN x VOITED surf inspired poncho will keep you warm during dawn patrol and after a sunset surf sesh. Made with 100% recycled 50D Repreve® Ripstop fabric, a waterproof exterior and a soft towel-like interior. The poncho also packs small into its pouch for easy storage or for use as a pillow. The best part - these ponchos are made from recycled plastic bottles. Use it after surfing for a graceful wetsuit change or dry off after swim practice. Drying off and staying warm never looked so good.
JOLYN x VOITED Travel Blanket
Travel everywhere with this amazing, sustainable, lightweight, packable, insulated and water-resistant travel blanket, for a perfect day at the beach, spending time on the mountain, or evening at the campsite. Stay cozy with VOITED's three-layer 3D featherlight fiber insulation. These blankets are made from 100% recycled materials, have a lightweight, down-like warmth and are easy to care for with machine washing. The blanket can be snapped into a hands-free cape with a hood, while the inner pocket is great for storing your phone and small valuables. It can be stored in its own compression sack or turned into a pillow by packing it into the integrated pouch. Keep in your car for whenever you need a little extra warmth. This ultra soft travel blanket will keep you warm and go on every outdoor adventure with you!